D'Argent (Ire)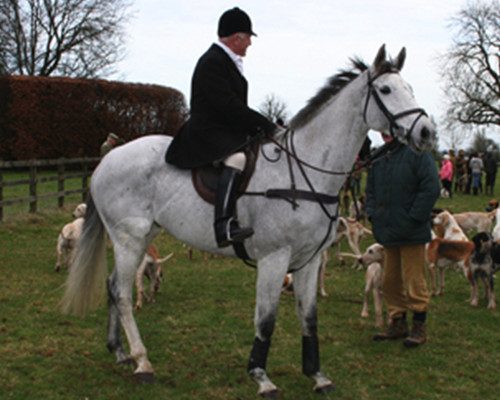 D'Argent (Ire)
1997 grey gelding by Roselier (Fr) ex Money Galore (Ire) (Monksfield)
Has hunted with the Duke of Beaufort's for three seasons now and is being prepared for his fourth. Having jumped around most of the Grand National (2008) there was never any doubt that he had the jump but with quite alot of our country being stone walls and post and rails the first two seasons were taken quite quietly to settle down his enthusiasm and get him to jump carefully enough particularly over the stone walls.
Although quite spooky he was a super ride from day one with a lovely mouth which has always made him easy to hold even in company out hunting. When in off grass or when particularly fresh, loves to throw a decent buck or two so one can't relax too much. In his first season when out on exercise he was quite savagely attacked by two Staffordshire bull terriers which certainly left their mark with 20 stitches needed to repair the damage. Not surprisingly is now pretty timid with dogs but as can be seen in the picture is improving all the time. He was a very good patient and is also a lovely horse to do in the stables making him the clear favourite in the yard.
Last season was the first that I took him up to the front of the field and on two occasions we cut loose and flew, once over most of the cream of the Beaufort Saturday country, with the second time being with the thrusters of the Wynnstay where he more than held his own over some very decent old fashioned country. There really haven't been many better rides in my hunting experience and D'Argent was a superstar.