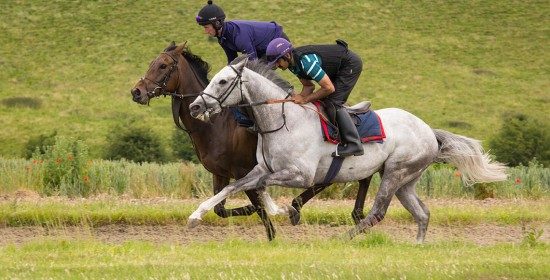 GALLOPS
Within the confines of Barbury Estate we are blessed with multiple gallops, varying in distance and surface. The majority of the exercise takes place on the Sharpridge hill gallop, consisting of an Equivia surface. Stretching 5 furlongs and sculpted into one of our many hills, climbing 300ft, it provides the horses with a test of fitness and conditioning without being too severe. With an extra furlong being added to gallop the previous summer it gives me alternative distances to work the string, depending on the individual's training regime. Running parallel to this is one of our many grass gallops, which we can use weather/ ground permitting to prepare the string for life on the racecourse.
The 'Old' gallop provides an alternative to Sharpridge, with its less demanding climb and one sweeping left hand bend. The gallop measures 6 furlongs on relatively flat land, with a grass gallop running adjacent to the all weather surface. With ample grass coverage and good drainage, we can be assured of the best possible ground for exercise.
To coincide with our two main gallops, we also have 'The Barbury Mile' grass gallop, with plenty of undulations it provides a key part in the horse's education, allowing them to learn how to balance and use themselves correctly.
The Equivia Drymix gallop is situated next to the schooling grounds, it is approximately one and a half furlongs round and consists of a sand, fibre and rubber based surface. The gallop rides on a slight camber and is used as a warm up canter for horses before they school. This gallop can be seen used to good effect in the aid of teaching the horses to relax and enable the horses to find a rhythm in their cantering, and again like the mile gallop, the horse learn to balance themselves correctly, and is a great alternative to the conventional gallops at our disposal.
Another key feature in the horse's training is the estate itself. With almost 2000 acres of land, many bridleways and tracks, the horses need not see a gallop and fitness can be maintained thanks to the rolling hills and vast expanse of the estate. This can be also used as a great means to freshen the horses up and be beneficial both physically and mentally.